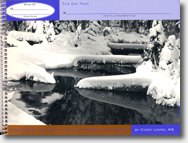 The Day That….
SKU 00017
Product Details
This workbook takes the Lovre Model of intervention and makes it available to youth who are working with counselors who do not have expertise in trauma. The youth draw the continuum of life prior to the event through the event and on into life after some level of adjustment.
Effort is made for youth to become aware of how their body is holding the traumatic memory and the residual physical stress. The last few pages of the book include the visualization exercise that allows the child to begin to manage the symptoms and contain "the story".
The companion workbook for older youth who can write well enough to journal is Reclaiming Life!
Save this product for later