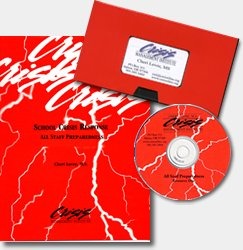 All Staff Preparedness Package
SKU 00040
Product Details
All Staff Preparedness Package
The All Staff Preparedness package (available in DVD format only) provides a comprehensive foundation in crisis response for your entire staff, and requires minimal staff time. It is designed to fit very brief learning segments into existing staff or department meetings, sprinkled throughout your school year. All Staff Preparedness Set $350.00 Purchase additional sets for use at other schools within a single district at a reduced price.  $200.00 The kit has 25 separate training segments, each about five minutes or less in length, and a CD with accompanying handouts. Hard copies of each handout are also included in the package. The training material is appropriate for every staff member, covering 25 subjects, including:
Team Organization
Children and Youth in Grief
Needs of Youth in Grief
The Empty Desk: Dealing with Student Belongings
When One Student Loses a Family Member
Suicide Prevention
Warning Signs of Potential Suicide
Missing Students
Announcements of Tragic Events to Students & Staff
The Function of a SafeRoom
Activities for Processing Loss and Grief
Handling a Classroom on Crisis Day
Guidelines for Teachers on Crisis Day
Memory Events
Effects of Trauma for Individuals
Prevention of Trauma
Follow-up for Staff and Students
Self-Care
Managing the Media
Signs of Need for Professional Help
Identifying Signs of Depression
Terminal Illness
For Students Attending a Funeral for the First Time
Teachable Moments
Parent Communications
This package requires no special training and each unit is a stand-alone, so administrators, crisis team leaders or counselors can choose to use only a few, several or all segments over a period of time. Several could be grouped together for mini-inservices or partial day workshops, or more of the set could be used for a whole-day training. This kit, including accompanying handouts, would make an excellent choices for college instructors who teach classes on crisis response, at-risk youth, safe schools issues and violence prevention.
For shipping adjustments, please contact CMI for price quote.
Save this product for later